Happy Holidays from all of us!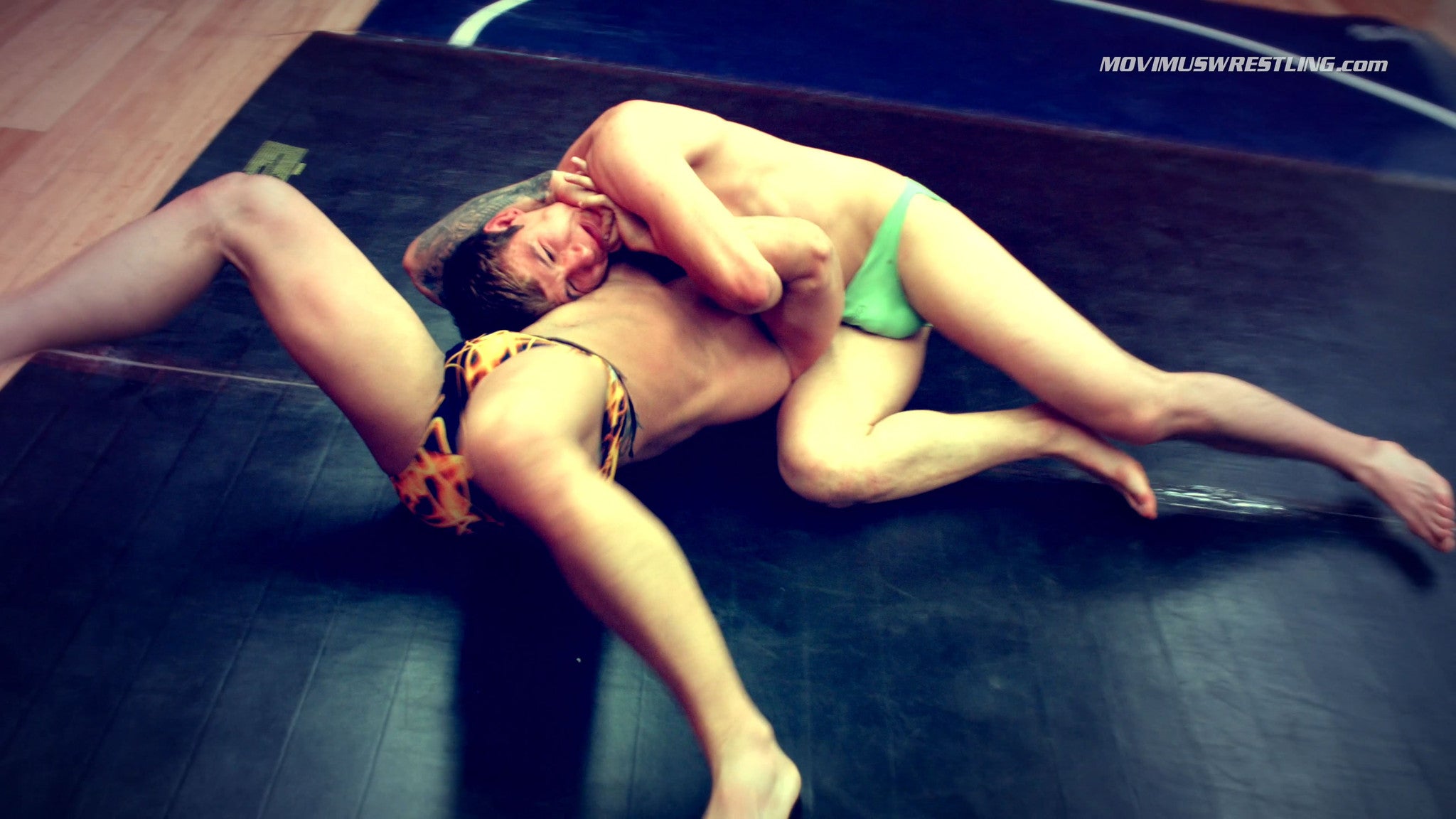 2015 has been an amazing year for us at Movimus Wrestling. None of this would have been possible without your support. As a token of our appreciation, we are making this match, FREE to watch, as a way of acknowledging your support. Enjoy! 
In the mean time, if you like to find a great way to save on your Movimus Wrestling matches, our gift cards are now on sale until December 31, 2015. All gift cards can be used towards any Movimus Wrestling match downloads for 2016. Buy today and save! 
Aron Stokes 6'1" 178 lbs.
Tito Marones 5'11" 184 lbs
Aron (green speedos) challenges Tito (brown – yellow speedos). They met at the Movimus Studio just before their match. When Tito walked on the mat in his speedo, Aron quietly said "Oh S _ _ _". Tito is very impressive and just as strong as he looks. "I'm going to have to tire him out" Aron told us before the match. So Aron worked real hard in the first fall to avoid Tito's muscles. He was actually quite successful. Aron seems to control the first fall – surprisingly. Aron's skill has vastly improved and you can see just how adept he really is when he controls the big, strong muscle-boy. But Tito does not like getting pushed around the mat, and he definitely does not like being in Aron's grip. So Tito begins putting some wicked squeeze on Aron.
Aron is moaning and struggling to escape the vise-like grip of Tito. That is no easy task. Tito tosses Aron around the mat, but doesn't have enough skill to follow the toss and get on top of Aron in a school-boy pin. If he did that, Aron would have been in some real trouble. But Tito just keeps tossing Aron and letting him go. Aron takes advantage of Tito's mistakes and monopolizes on advantage. Aron learned early on not to go for a single or double leg – Tito is just too big and much too strong. So Aron tries to match upper body strength with Tito and bring him to the mat.
A double head scissors has Aron moaning on the mat. Tito is quiet but you know he is feeling the effects of Aron's muscular legs and tight scissors. They both escape but Aron proves to quick – he get another head scissors on Tito and really pours on the pressure. Tito is forced to tap out. They continue for almost 16 minutes of incredible, powerful, really aggressive wrestling. How these two lasted that long at that awesome pace is simply amazing. Aron has incredible stamina, but against the power and strength of Tito, we are amazed he was able to take it for that long.
Tito is almost non-stoppable. He's a wrestling machine and he will do what it takes to win. These two wrestlers are the best! Don't miss this match.